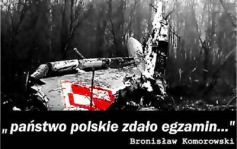 "Sprawa katastrofy smoleńskiej jest arcyboleśnie prosta"
Bronisław Komorowski
Zapewne duża grupa moich stałych Czytelników (i nie tylko) zacznie za chwilkę trzeć oczy ze zdumienia i/lub złapie tzw. karpia, ale muszę stwierdzić, że w kwestii wydarzeń z 10 kwietnia 2010 roku… zgadzam się z rezydentem Komorowskim. Doprawdy niepojęty jest uwiąd zaufania w odniesieniu do publicznych wypowiedzi przedstawicieli władzy, autorytetów moralnych, redaktorów z zaprzyjaźnionych mediów i ich ekspertów od wszystkiego. Weźmy takiego Bartoszewskiego Władysława: nie rozumiem dlaczego tyle osób mu nie wierzy i wiesza na nim przysłowiowe psy? Trzeba być bardzo złośliwym człowiekiem, by nie dać wiary słowom tzw. profesora. Ja na ten przykład nie widzę najmniejszego powodu, żeby uznać wypowiedzi pana Bartoszewskiego za kłamstwo. Skoro starszy pan twierdzi, że w czasie II Wojny Światowej bał się bardziej Polaków z sąsiedztwa niźli pacyfistycznie nastawionych oficerów niemieckiego wojska, to na pewno miał ku temu powody. Zbliżone powody mieli tzw. szmalcownicy, którzy jak ognia bali się "leśnych bandytów", a nie pilnujących okupacyjnego ładu żołnierzy III Rzeszy. Tak więc głęboko wierzę, iż Bartoszewski osobiście, prywatnie, jako jednostka, z jemu tylko znanych przyczyn, bał się Polaków, a nie Niemców. Na podobnej zasadzie wierzę w słowa rezydenta Komorowskiego. Też sądzę, że sprawa "katastrofy" smoleńskiej jest arcyboleśnie prosta. Na tym jednak podobieństwa się kończą. Bowiem według mnie owa prostota wynika z zupełnie innych przyczyn…
10 kwietnia ub. roku, kiedy po nieprzespanej nocy z porannej drzemki wyrwał mnie telefon od mojego Ojca, który przekazał mi wiadomość o tej piekielnej tragedii, ani przez moment nie pomyślałem o niej inaczej niż jak o zamachu. Od samego początku twierdziłem więc, że sprawa ta jest arcyboleśnie prosta. Wiadomo – oszołom. Cóż, noblesse oblige… Ktoś później napisał, że wypadki lotnicze zdarzają się niezmiernie rzadko, a katastrofy, w których giną elity narodowe prawie nigdy. Oczywiście to żaden dowód, ale nie mam zamiaru nikogo przekonywać – to są moje prywatne spostrzeżenia, do których mam takie samo prawo jak Tusk do opowiadania bajek o drugiej Irlandii. O powodach, dla których uważam, że polska delegacja została zamordowana mógłbym pisać przez tydzień. Inni robią to częściej i lepiej, więc nie ma sensu w tym miejscu przedstawiać historii kłamstw, matactw i działań dezinformacyjnych zarówno strony rosyjskiej jak i polskiej oraz ich agentów wpływu. Damage is done – wielu ludziom udało się zrobić wodę z mózgu.
Niemniej warto zauważyć, iż towarzysze grają już totalnie bezczelnie, "jadą ostro po bandzie" – jak mawia młodzież, całkowicie nie dbając o absurdalność swoich wrzutek. Mam na myśli ostatnie przedstawienie pt. "Kłótnia o pogodę", czyli sprawę rzekomej sprzeczki ś.p. gen. Błasika ze ś.p. mjr. Protasiukiem, która niby miała mieć miejsce przed odlotem do Smoleńska. Ewidentna manipulacja: Tu-154M wystartował podobno o godz. 7:27 (piszę "podobno", bo w całej tej sprawie jedynym pewnikiem jest fakt zamordowania 96. osób). Autorzy tej wrzutki nie raczyli nas poinformować, o której dokładnie godzinie nasi wojskowi się kłócili, ale stwierdzili ponad wszelką wątpliwość, że kłótnia dotyczyła pogody. Ciekawe dlaczego nie podano godziny, nie? Bo zarejestrowane przez kamerę przemysłową zdarzenie, przy założeniu, że rządowa maszyna wystartowała o 7:27, musiało mieć miejsce przed siódmą, najpóźniej około siódmej. A o 7:00, 10 kwietnia 2010 roku, na lotnisku Siewiernyj widzialność wynosiła… 4 km! Żeby wszystko było jasne: być może gen. Błasik krzyczał na mjr. Protasiuka, może doszło do ostrej wymiany zdań między nimi. Ale z całą pewnością nie mogła ona dotyczyć warunków pogodowych w Smoleńsku. Wniosek? "A wniosek wyciągnij se pan sam…" Drodzy towarzysze, przestańcie już łgać…
Dobra, dobra, miało być o tytułowym fotopytaniu, a ja tu rozpisuje się o rzeczach dla każdego zdroworozsądkowego i samodzielnie myślącego człowieka oczywistych. Do rzeczy – rzućcie proszę okiem na te kilka fotek:
Zdjęcie nr 1 – Boeing 737-800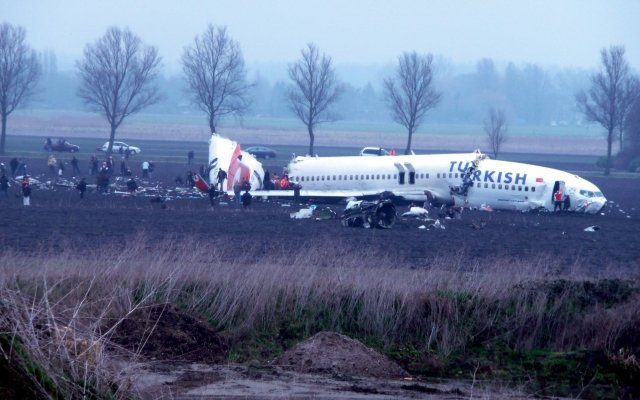 Zdjęcie nr 2 – Tu-204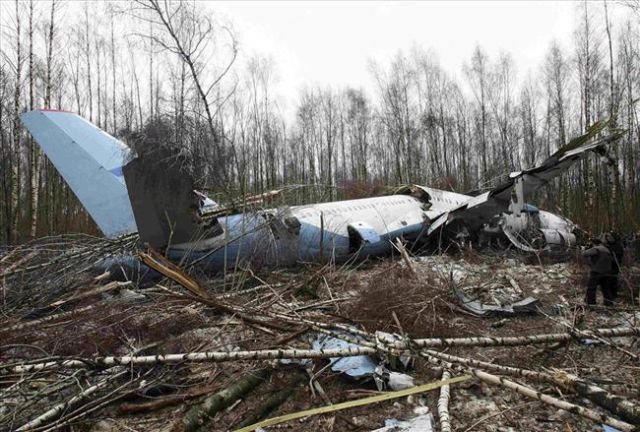 Zdjęcie nr 3 – Tu-154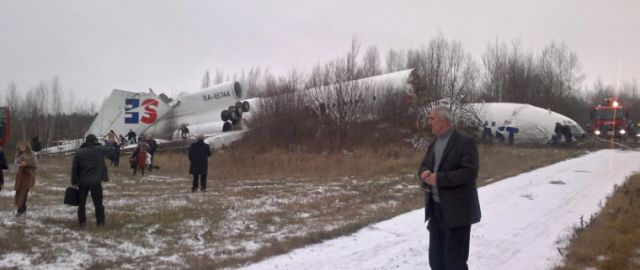 Zdjęcia nr 4 i 5 – wrak polskiego Tu-154M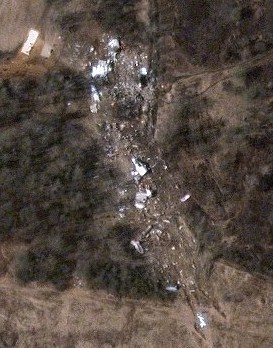 Uruchomcie wyobraźnię. Rozumiecie już do czego zmierzam? Zakładam, że tak, bo zrobiłem mały eksperyment i pokazałem powyższe zdjęcia znajomym Anglikom. Takim, którzy generalnie mają głęboko w de to, co się wydarzyło w Smoleńsku. Oglądali je bez emocjonalnego stosunku, bez żadnych dodatkowych informacji – tylko zdjęcia i krótkie opisy, które znajdują się pod nimi. I oni pojęli w lot o co mi chodzi. To pozwala mi sądzić, że Wy też bez problemu wychwycicie cel tego zestawienia: wykazanie nieprawdopodobnej skali zniszczeń Tu-154M 101. "No way", "impossible", "joke" – to tylko niektóre z wypowiedzi. Patrzyli na mnie z rozdziawionymi gębami, powtarzając w kółko jedno słowo: "żartujesz". Też uważam, że to niemożliwe i że ktoś sobie z nas nieźle żartuje. Zaraz… wróć: jak to niemożliwe, skoro właśnie patrzymy na te fotografie? Przecież to się stało – ta kupka złomu była kiedyś samolotem. Otóż niemożliwe jest coś innego: fakt całkowitej dezintegracji konstrukcji Tu-154M, przy założeniu, że samolot spadł z wysokości pierwszego piętra! Co naprawdę wydarzyło się 10 kwietnia ub. na Siewiernym? Zna ktoś odpowiedź na moje fotopytanie? Bo w to, że była to pospolita katastrofa lotnicza wierzą już tylko totalnie zmanipulowani i zwykli zdrajcy, dla których, jak dla premiera Tuska, "polskość to nienormalność"! Swoją drogą jest to fascynujące – totalna porażka umysłu. Zdawałoby się inteligentni ludzie, a gdy patrzą na powyższe fotki rozpoczynają swoją wypowiedź od słów: "Przecież wszyscy wiedzą, że to był nieszczęśliwy wypadek…" Nawiasem mówiąc, zwrot "przecież wszyscy wiedzą" jest najczęściej stosowanym przez GW "argumentem" w jakiekolwiek dyskusji. Dlaczego tak się dzieje? Dlaczego mało rozgarnięci Angole (bez urazy!) nie mają wątpliwości, że coś tu śmierdzi, a tylu Polaków łyka medialną papkę o pijanym generale, który zmusił niewyszkolonych, nie znających języka rosyjskiego pilotów do samobójczej śmierci? Wszystko przez to, że w "katastrofie" zginął prezydent Lech Kaczyński, ten kurdupel, kartofel, alkoholik, przez którego musieliśmy się wsydzić przed całą Europą. W ten sposób, przez kwestionowanie oficjalnej wersji, można zostać określonym per "pisior", a to przeca nie jest "cool" , "trendy" i "jazzy". Porażka umysłu… Osobiście mam frajdę, kiedy rozmówcom zamykam jadaczkę stwierdzeniem, że nigdy na PiS ani Kaczyńskiego nie głosowałem, a kwestia wyjaśnienia wydarzeń z 10.04.2010 roku jest apolityczna. Myśleć! Kto więc wyjaśni dlaczego samolotom o podobnej lub takiej samej konstrukcji, w podobnych okolicznościach przytrafia się co najwyżej przełamanie w kilku miejscach kadłuba, podczas gdy z Tu-154 została przemielona miazga?
Tak, wiem, każda katastrofa jest inna, nie można tak porównywać, itede. A poza tym przecież wszyscy "wiedzą" jak to było, tysiąc razy nam to powtórzono: brzoza – urwane skrzydło – beczka – bum – masakra. Chciałbym zauważyć, że teoria o beczce jest tylko… teorią. Nie ma żadnych dowodów, poza widzimisię "śledczych", które by wyjaśniały w jaki sposób do tego doszło. Ta teoria jest jednak potrzebna osobom, które twierdzą, że smoleński kataklizm był li tylko zwykłym wypadkiem lotniczym, bo tylko w ten sposób można próbować wytłumaczyć totalną masakrę. Niestety wszystko to opiera się na znanej od lat "ruskiej filozofii", która w tym konkretnym przypadku brzmi tak: "Dlaczego Tu-154M uległ całkowitemu zniszczeniu? Bo lądował na plecach. A dlaczego lądował na plecach, bo uległ całkowitemu zniszczeniu". Proszę jeszcze raz spojrzeć na zdjęcie nr 2: Tu-204. Samolot ten stracił skrzydło po uderzeniu w… trzydziestometrową sosnę! Nie w brzózkę, którą mógłbym złamać jednym kichnięciem, lecz w wielkie, grube drzewo. I nie zrobił żadnej beczki. I nie rozpadł się na milion kawałków. I nikt nie zginął. Dla przypomnienia: po 10 kwietnia 2010 roku doszło do 7 katastrof z udziałem Tu-154. Ogólna liczba ofiar śmiertelnych tych wypadków wynosi zaledwie 10%…
Ale zapomnijmy na chwilę o moim mentalnym "oszołomstwie" i załóżmy, że tragedia Tu-154 jest winą pilotów. Załóżmy również, że samolot zrobił tę nieszczęsną beczkę i zderzył się z ziemią plecami. Czy nawet przy takich założeniach możliwa jest taka skala zniszczeń? Choć co ja tam wiem – "wsiowa baba jestem" – może jest to możliwe? W końcu nie takie rzeczy śniły się filozofom… W takim razie chciałbym, by ktoś wreszcie wytłumaczył mi jak przysłowiowy Herman kozie, jak przysłowiowej krowie na miedzy, spokojnie, rzeczowo i racjonalnie: co dokładnie stało się z rządowym Tupolewem, co spowodowało jego całkowite zniszczenie i dlaczego inne samoloty w zbliżonych sytuacjach pozostają niemalże w jednym kawałku. Zaznaczam, że nie zadowala mnie jedniozdaniowa odpowiedź z raportu MAK, mówiąca o tym, że "samolot uległ całkowitemu zniszczeniu". To chyba widać, nie? Niech mi ktoś hypko tfu… szybko wytłumaczy jakim cudem z polskiego samolotu została garstka złomu. Wtedy grzecznie posypię głowę popiołem, odszczekam wszystkie "spiskowe teorie" i przeproszę każdego, kogo obraziłem imputowaniem braku oleju w głowie i/lub zarzucaniem zdrady. Tylko jakoś dziwnie spokojny jestem, że to nigdy nie nastąpi. Nie oczekuję jednak odpowiedzi od rezydenta Komorwskiego, dwóch Klichów, wszystkich Millerów i pozostałych Tusków. To oczywiste: ze zdrajcami się nie dyskutuje – zdrajców się wiesza! Poza tym moje fotopytanie jest retoryczne – wystarczy jedno spojrzenie na te zdjęcia. Dlatego pytanie nie brzmi: czy to był zamach. Pytanie brzmi: w jaki sposób go przeprowadzono. Chcicłabym dowiedzieć się w jaki sposób zamordowano prezydenta mojego kraju. Może wtedy, gdy prawda wyjdzie na jaw, będę w stanie chociaż zacząć myśleć o wybaczeniu osobom odpowiedzialnym za jego przeprowadzenie i wszystkim tym, którzy przez cały ten czas kłamali, starając się, by prawdę przykryła gęsta mgła…